HOT BELIZIAN FACTS:
*Belize is the ONLY English speaking country in Central and South America.
*LOW LOW LOW cost of living, and your American dollar is worth two Belizean dollars.
*Independent Democratic Parliament Rule *Incredible friendly people in the world's new melting pot for the wealthy and affluent.
*Total population of 380,000
*Sub-tropical SUNNY gorgeous weather
*IT LAST SNOWED IN BELIZE 340 million years ago.
*A sense of excitement - explosive growth everywhere you go.
*A FRESH NEW country filled with anticipation for growth and freedom.
Timing is everything! Right now, Belize is the fastest-growing tourist port in the Caribbean - poised to become the regions Next Hot Spot. Peaceful, politically stable, close to home, and English speaking... Belize has a wealth of benefits to offer. And, right now, your timing is impeccable. It's not often that you can pinpoint a boom in the making, but that's exactly what's taking shape in Belize. As word about this lovely nation spreads, property prices are poised to increase. Get in before the destination catches on... and the market catches up. Compared to popular Caribbean locations such as Cancun, St Thomas and St. Maarten where a two-bedroom villa on the ocean would be upwards of $650,000 US, Los Porticos Villas in Placencia, Belize, range from $250,000 to $529,000US. Belize is positioning itself nicely to be the next Caribbean Hot Spot... the property values here, right now, remain a small fraction of what you'd pay across most of the region.
Belize makes it easy to purchase property as their laws are based on British Common Law, and there are no restrictions on foreign ownership of real estate. Other appealing factors are; attractive incentives for retirees, tax holidays of up to 20 years for qualified businesses, English speaking population and a stable currency – the Belize dollar is fixed at two to one to the US dollar. As Moon Handbooks recently pointed out, "Belize is the only county within the Caribbean to experience consistent increases in overall tourist arrivals since 1998--including post-9/11, a period that devastated other tourism-dependent areas." Belize has also been named, by International Living Magazine, the "Top Choice for retirement destination". It is also noteworthy to mention that Belize was voted the Best Adventure Destination, Best Snorkel Destination, and Best Dive Destination in Caribbean --Belize City, Monday, March 5th, 2007 – Caribbean Travel & Life's Reader's Choice.
The Belize climate is subtropical, with a cooling breeze from the Caribbean Sea. Belize has an annual average temperature of 79 degrees Fahrenheit (26 C). Summer high temperatures seldom exceed 94 degrees Fahrenheit (34 C), and winter lows are rarely below 60 degrees Fahrenheit (16 C) - even at night. The rainy season is between June and August and is the most beautiful time of year, where the rainforests truly come to life and where the short burst of mid-afternoon rain serves to cool. The dry season is from February through May. Please contact us if you would like to know what the Belize climate is like now.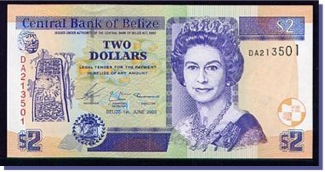 The official currency for Belize is the Belize Dollar (BZD; symbol Bz$). Like Belize itself, the currency is colorful and interesting. The exchange rate is approximately Bz$2 to US$1 and currency can be exchanged at most banks and hotels.
There are 4 Commercial banks, the Belize Bank Ltd., 1st Caribbean Bank, the Bank of Nova Scotia and Atlantic Bank Ltd., and several small Credit Unions. Offshore banking is one of Belize's claims to fame and still offers a secure envirionment for offshore banking.
ATMs in Belize generally do accept foreign cards. Some businesses will accept dollars, and American Express, MasterCard and Visa are accepted in many places.
Tax-free offshore accounts, offshore Trusts, merchant accounts, online trading and new company formations in Belize are worth investigating. Belize is recognized as being one of the best offshore jurisdictions for offshore company formations and offshore Trusts. Belize is one of the remaining tax havens for offshore banking, offshore accounts, IBC offshore incorporations and offshore investment.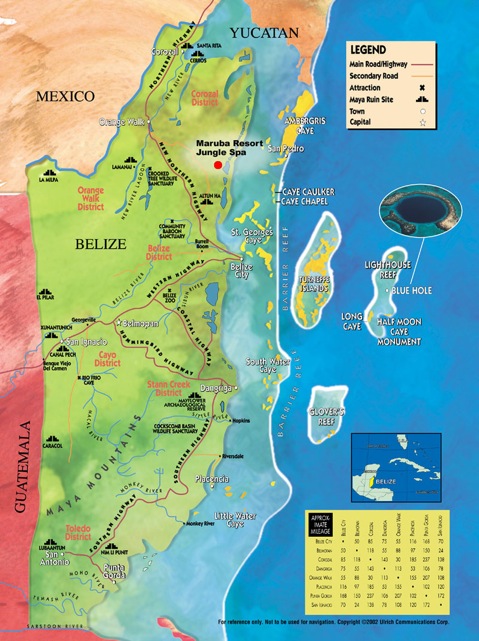 Belize
is located in the Northern Hemisphere, within Central America. Bounded on the North by Mexico, South and West by Guatemala, and the beautiful Caribbean Sea washes its 174 mile coastline to the East, with an area of 8,866 sq. miles including 266 sq. miles of islands.

Belize is a land of unique contrasts with more to do and see than many countries 10 times it size. Belize's coast is protected by 185 miles of Barrier Reef studded with hundreds of coral islands, the undiscovered habitat of some of the best diving and sport fishing in the world. At the centre are lush forests of the Mountain Pine Ridge with caves and Mayan Ruins for exploring, rivers for rafting, and breathtaking waterfalls. The south is a land of true tropical rainforest with every form of tropical plant, bird, and wildlife, including playful monkeys, talkative parrots, and colorful toucans.


Who may purchase land in Belize? Every-one, and full title is granted to non-Belizeans in fee simple title.

Belizeans and Non-Belizeans pay 5% of the Selling Consideration as a Stamp Duty or Transfer Tax to the Government of Belize. Registration and fees are very minimal (approximately $150.00BZ / $75.00 US). Lawyer's Fees for Legal Services for Conveying property are approximately 1-2% of the Selling consideration. Each individual is entitled to seek his or her own personal Legal Council. Approximate total closing costs for a Non-Belizean citizen is 6 - 7% of the selling consideration. Several established legal firms will work with you and your lawyer through an entire transaction process until completion.

A Speculation Tax was implemented in 2002 for property in excess of 300 acres, which is 5% of the undeveloped value of the land, as set by the Department of Natural Resources. This was established to provide for large tracts of land and to push developments throughout the country. This tax is paid on the 1st of April of each year. Belize's property tax is considered to be one of the lowest of any of the Commonwealth countries. A typical 50' x 125' beach lot's annual property taxes will be somewhere in the US$20-40 range.