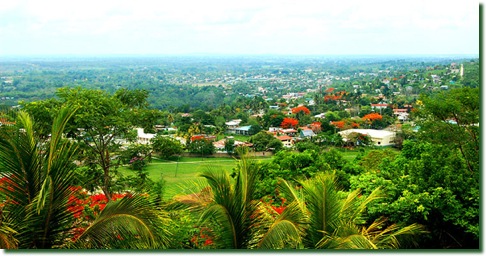 San Ignacio and sister-town, Santa Elena make up Belize's second largest urban area. The two towns are separated by the Macal River and Belize's only suspension bridge, the one-lane Hawksworth Bridge (Built in 1949).Together the towns have a combined population of about 20,000 including: Creole, Mestizo (Spanish-Maya), Lebanese, Chinese, Mennonite, Maya and other cultures. Both English and Spanish are spoken, plus a myriad of other languages.
Known locally as "Cayo," San Ignacio is located along the Western Highway about 70 miles west and 90 minutes drive time from Belize City and 9 miles east of the Guatemalan border. Teeming with archaeologists, peace corps workers, North American retirees and thrill seekers, "Cayo" is a unique blend of America's Old West and tropical backwater with frontier-like wooden shops on narrow streets.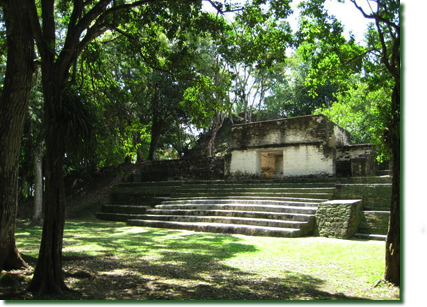 Belize is recognized as the center of the ancient Maya world. And it was here in the "central lowlands" of western Belize and the Guatemalan Peten that the ancient Maya flourished during the Classic Period from 300 to 900 AD. Archaeologists now estimate that 2,000,000 Mayans once lived in what is now Belize.Cahal Pech, a Mayan archeological site, is a quick cab ride or a 20-minute uphill walk from town. Abandoned by 800 AD, the site consists of 34 structures on two acres. located on a hill overlooking San Ignacio.
In Cayo District, it is almost impossible to travel even a few miles without finding evidence of former Mayan presence. Many landowners can point to ruins of ancient household groups, underground storage caches - called "chultuns" - and small temples. Many of Cayo's numerous caves, such as Chechem Ha and Actun Tunichil Muknall, were used for storage or ceremony, as evidenced by pottery and skeletal remains.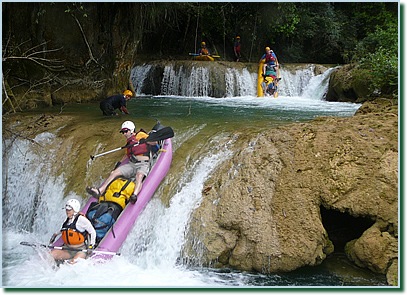 San Ignacio is at the juncture of two rivers - The Macal and the Mopan. These beautiful rivers are a source of endless fun, relaxation and enjoyment.
You can take a guided or self-guided tour. Knowable guides will point out the different flora and fauna, birds and other wildlife along the way. You are likely to spot basking Iguanas perched atop the jungle canopy, while passing by high-rock-wall formations, as you slowly make your way downstream. Macal River canoeing lasts 3 hours to half-day, depending on the entry point.
Canoeing, Tubing or using inflatable Kayaks
work equally well on the Mopan River, which has an abundance of light rapids and cascading water falls. Whichever way you go, you are sure to see a variety of birds including flycatchers, cormorants, ducks, parrots and parquets.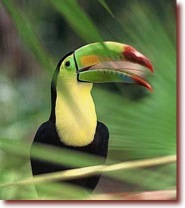 Over 600 species of birds are known to at least spend some of the year in Belize. Belize is a birder's paradise; both amateurs and professionals can encounter some of the world's most exotic birds.
Western Belize has become one of Belize's greatest bird destinations. It offers several birding sites which include National Parks, surface sites, riverine vegetation and lagoons. For example, just an hour from San Ignacion you can
hike into the famous Blue Hole National Park with a local licensed tour guide and get a chance to spot the rare Keel-billed Toucan, Ramphastos sulfuratus and Motmot or Momotidae.

At the surface sites birding is awesome, for the plazas are open and the flora provides adequate food for many species. This allows birding even easier for the amateur birder.